One of the tourism slogans for our province is "super, natural British Columbia." This sly Hopkinsian nod to "the world…charged with the grandeur of God" highlights BC's reputation as a wilderness wonderland; it only takes a few minutes to travel from Vancouver to the backcountry.
Hiking
While attending the ATLA Conference, you may consider an outdoor excursion. There are numerous hikes of varying difficulties, many of them being less than 30 kilometers away from Vancouver. One of the most famous and popular among locals is the Grouse Grind, a 2,830 step uphill trek  recommended for those who are fit and active (if you plan on attempting the Grouse Grind, make sure you thoroughly read through the FAQ). See 20 of the Best Hikes Near Vancouver for more information on other local trails.
Paddling
Paddling is also popular among many West Coast residents. Here are some suggested places to kayak or canoe.
Steveston: South of Vancouver is the historic fishing village of Steveston, which once had a booming canning industry. At one point Steveston had a sizable Japanese-Canadian community; many of them were tragically interred during the Second World War. Paddle around the mouth of the Fraser River and enjoy a delicious seafood meal!
Deep Cove: Cozy Deep Cove is nestled away in the northeast corner of North Vancouver and easily accessible by public transit. Not only does it feature the popular Quarry Rock hike, but it is a fabulous place to kayak where paddlers can enjoy the still waters and wooded surroundings.
False Creek: There is also the opportunity to paddle around Vancouver and see the city from the water. Paddlers typically explore the waterfront along Telus World of Science, Yaletown, Granville Island, and Vanier Park.
Suspension Bridges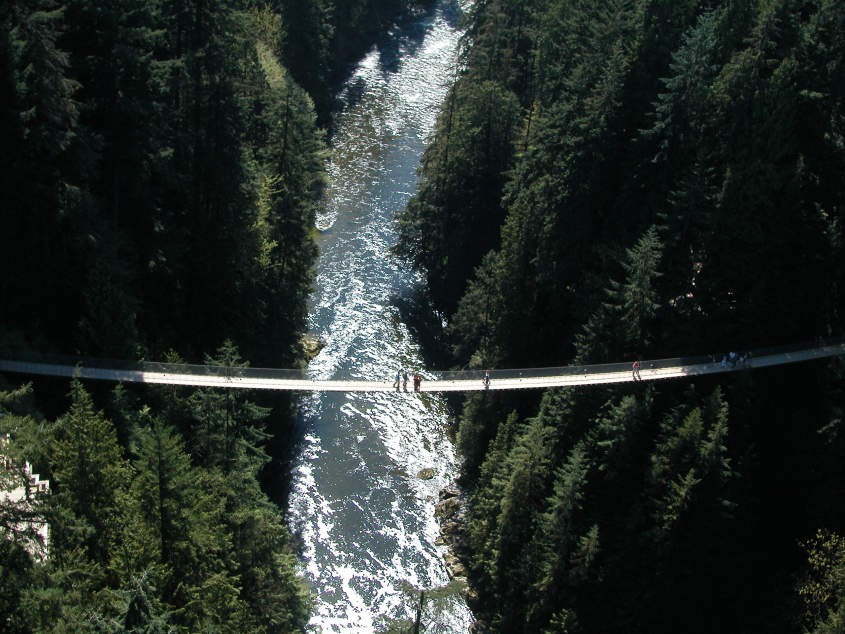 The Capilano Suspension Bridge is another famous tourist attraction that is visited by hundreds of thousands every year. The bridge is 140 meters (460 ft) long and 70 meters (230 ft) high. The bridge is connected to a park which has other fun activities to do such as the Cliffwalk and Treetop Adventures. Check out the Capilano Suspension Bridge for more information.
Also in North Vancouver is the Lynn Valley Suspension Bridge; while not as impressive as the Capilano Suspension Bridge, it is free to visit and is part of the Baden-Powell Trail.
These are just a few of the suggestions for outdoor excursions around Vancouver! We hope you're able to enjoy some time out in nature!